Uni Paver Block is the perfect product for any construction project. It can be installed in a variety of ways, and it provides an easy-to-maintain surface that many people love. This blog post will highlight why you should consider using Uni Paver Block on your next construction project.
Are you looking for a new way to pave your driveway?
MCBM Uni-pavers are high-strength solid blocks and are produced by high pressure and vibration. It is popular for its strength, artistic design, and easy installation. It has wide used field in Govt. and private sectors in our country.
You can use it as a pathway or walkway, but we recommend using them as the foundation of an outdoor kitchen or fireplace area because they're so durable! They'll last forever with proper care (and if you don't have kids who like to play on them). And best of all, they're super easy to install – just lay down some gravel first then place the pavers right on top! No need for mortar or concrete at all! We even provide detailed instructions that come with every order so there's no guesswork involved when installing these beauties into your backyard oasis.
Contract Us right now and purchase Uni-pavers today!
If you're looking for a high-quality block that can be used in both commercial and residential construction, then look no further than the Uni-Paver.
The Uni-Paver is made from a special blend of concrete and steel fibers that makes it incredibly strong and durable. It also has an artistic design with an attractive color palette to choose from so you can find the perfect match for your project. Plus, installation is easy thanks to its lightweight design!
You won't have to worry about ever picking up that phone call from your customer that isn't so happy with how late their package is. Never stress over late orders, missing packages, and the mess of fulfillment. Rest easy knowing ShipBob will take care of all your fulfillment needs for you!
If you're looking for a new paver, look no further.
We have the perfect solution for your project with our high-strength solid blocks that are produced by high pressure and vibration. They are popular for their strength, artistic design, and easy installation. Our products have a wide used field in government and private sectors in our country. You can trust us to deliver quality every time!
With MCBM Uni-pavers you will be able to create an attractive walkway or patio that is sure to impress all of your friends and family members! Plus it's so durable that it will last through many years of wear and tear without ever needing repairs or replacements! What more could you ask for? Get yours today before they sell out!
Contract Us now to get started on your next project with Rupshi Concrete Products ltd!
Paver blocks are a great way to give your outdoor space some character. They have the advantage of being both low maintenance and long-lasting, as well!
Pavers can be formed into any shape or size you need for different uses; they also come in many colors and textures from which one may choose their preferred look before installation. This type of pavement is best used on exterior surfaces because it does not require much care other than keeping them free-standing with minimum exposure so that water will run off easily when necessary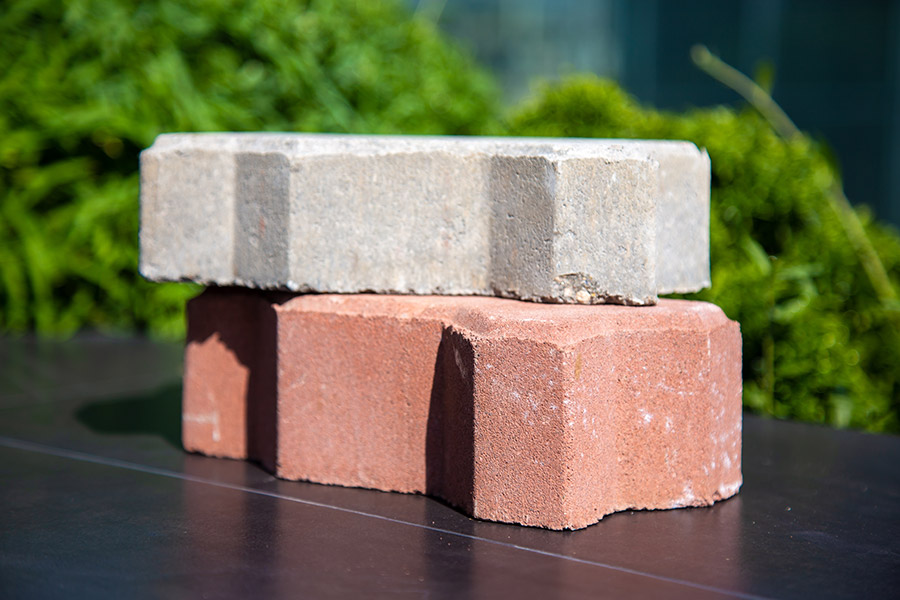 What is the use of paver blocks?
Block paving can be used for both exterior and interior applications. It's made up of various materials such as concrete, clay, or recycled plastic but most often than not it will have either a reinforced coping layer on top so that vehicles do not damage them when driving over them at high speeds (to prevent chip Chip Paving), which also provides an aesthetic appeal to homes with its unique texture – this type often serve well around walkways if one wants their shoes protected from muddy footprints while coming inside; there are other surfaces available too like slipper grit stone types suitable only outdoors because they're difficult habitats where water easily penetrates into cracks
Different kinds of pavers.
If you want a solution that will offer unmatched strength and durability, why not consider block paving? It's made from high-quality materials for use as flooring on patios or driveways. Block pavers can also be used in commercial construction work because they're known to outlast other types of surfaces such as gravel paths which are prone to shifting over time.
It is easy to install block pavers because they are lightweight, making it possible for you to put them in place with your bare hands. Also, the rust-resistant surface of these types of paving makes them suitable even if exposed outside or near coastal areas! So why settle for anything less when you can have a high
As a leading supplier of paving stones, we know that it's important to have the right product for your needs. Whether you need concrete pavers or natural stone blocks, our team is ready and waiting to answer any questions about these products so you can make an informed decision before contacting us with your order today!